Flat Fee vs. Commission Real Estate: An In-Depth Guide
When you're looking to sell your home, it's important to find a real estate agent that you trust. You're going to be working with your real estate agent for a while, so don't feel bad if you don't commit to the first real estate agent you find. It's a process and taking the time to find someone who will work with your needs in mind will make the selling process much easier. One thing that you'll want to discuss with your real estate agent is whether they are compensated via a flat fee or through commission. To help you better understand your options, here is an in-depth guide to flat fee vs. commission real estate.
Understanding Real Estate Compensation
One of the most common things that needs to be clarified when selling a home is real estate compensation. There are a lot of different things that go into real estate compensation and every agent is different. Before we talk about specific compensation plans, it's important to clarify who exactly pays the real estate agent. That's not the complicated part—the seller pays the real estate agent. Your real estate agent will then work with the buyer's agent to determine how they will split their profits accordingly.
Once you've found your real estate agent, you'll work together to create a listing agreement. Make sure that you ask questions along the way if you don't understand the legal jargon that's being used. A good real estate agent will walk you through it to make sure that you know exactly what you're signing.
The Listing Agreement
The listing agreement is a legally binding contract between you and your real estate agent, so you need to make sure that you understand everything completely before you sign it. The listing agreement will include information about the sale price, terms of agreement, length of agreement, expiration date, a protection period clause, the seller's agent's compensation, the seller agent duties, a property owner's release of intellectual property rights, and the mediation and dispute clause.
When you're buying or selling a property, there are two different ways that real estate agents get compensated. One is through a flat fee and the other is commission that's based on the final sale of the property.
What is Commission Based Real Estate?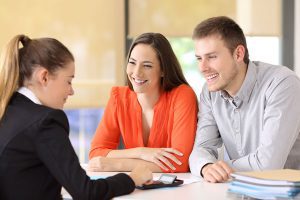 Commission based real estate is the traditional way that real estate agents have been compensated over the years. Real estate commission has typically stood around 5% to 6% of the home's final sale price. So, if your home sells at $300,000, you'd pay a real estate agent $18,000 at 6% commission. As we mentioned above, your real estate agent will have to split the commission with the buyer's real estate agent—if they have one—so they're not exactly walking away with the entire sum. Additionally, you have to take into consideration the amount of work that real estate agents do without getting paid first to earn their commission. When the selling process takes a long time, real estate agents don't see any money until the house is fully closed.
The only time a real estate agent wouldn't split the money is when they are a dual agent and represent both the buyer and the seller. As you can imagine, this can be a little more difficult, especially in terms of working with their client's best interests in mind. To reduce a conflict of interest, a lot of real estate agents only represent one person—the buyer or the seller.
When real estate agents get commission-based compensation, it covers all of the work that they do to get your home through closing. This means pricing your home, putting it on listing services, negotiating with buyers or a buyer's agent, and taking the entire process through to closing.
While the commission-based compensation is around 5% to 6% of the final sale price, there are no laws that require set commission rates. You can have a discussion with your real estate agent about reducing the commission rate, but they're under no obligation to do so. It doesn't hurt to ask, but you shouldn't rely on it.
Commission rates can also vary depending on the type of property it is. For example, if you're selling a vacant lot, commission rates are higher and can sometimes reach up to 20%. Always talk to your real estate agent about their commission before you move forward with a contract.
What is Flat Fee Real Estate?
A flat fee for real estate agents is just as it sounds: a flat fee that you pay, regardless of how much your house sells for. Some real estate agents prefer to work off of flat fee rates and have their own fee already set when you inquire with them. Others decide their fee after a consultation. If you and your real estate agent work out a $3,000 flat fee and your home sells for $300,000, you'll pay your real estate agent $3,000. This doesn't mean that you've saved $15,000 though. You'll still need to pay the buyer's real estate agent roughly 2-3%—which equates to $9,000 on a $300,000 home. Combine that with your real estate's flat fee and you pay a total of $12,000. This is a savings of about $6,000, which is huge on such a big transaction.
A lot of people wonder why a real estate would offer a flat fee if it means losing that much money, but it's a competitive market. With more listing services and real estate agents offering flat fees, people are really considering their options before moving forward with a contract. If you're selling your $1,000,000 home that you've invested hundreds of thousands of dollars in over the years, it's worth it to use a flat fee real estate agent. Overpaying the home equity can sometimes mean that you've broke even or even lost money on renovations or investments in your home, so it's worth considering.
One thing to keep in mind is that a lot of flat fee real estate agents don't offer the same comprehensive services as commission-based agents. You'll pay a commission-based real estate agent for a complete list of services, some of which you might not need. With a flat fee real estate agent, you'll work together to determine your needs and then get a price for only the services you do need and nothing more. They're making less money off of your home sale, but they're also doing a lot less. If you're planning to sell your own home, or do most of the work, this can be a great money saving opportunity that you would never get with a commission-based agent. Think of it like a custom-tailored real estate service.
Using a flat fee real estate agent also seems to make the sales process more efficient, as the agent tends to be juggling fewer clients at once. As technology continues to advance, the real estate process is becoming more streamlined and many agents can achieve market data and analysis without as much effort as it used to take.
At the end of the day, one of the main reasons that people opt for a flat fee real estate agent is control. Homeowners are given more control over the selling process and they can create their own schedule. For example, with a flat fee real estate agent, if you choose to host your own open houses, you can do so whenever you see fit. You can also schedule showings without the aid of an agent and even set the sale price. You have a larger range of options and flexibilities when you opt for a flat fee real estate agent, which can be both a good and a bad thing.
If you don't want to deal with all of the details, choosing a commission-based real estate agent is a better option for you. Otherwise, you might end up spending more money on a flat fee real estate agent. Remember, the more services you need, the more you'll pay. It's worth comparing the two and talking to perspective agents to figure out what will work best for you.
If you're looking for homes for sale in Northwest Arkansas, First Star Realty is here to help. We're committed to providing five-star realtor services to all of Northwest Arkansas and work to make the home buying process as simple as possible. First Star Realty will work with you throughout the entire selling process so you don't have to stress. Our clients always come first, so if you're ready to buy, or sell, a home, contact us today. Our team of highly seasoned real estate professionals is dedicated to providing exceptional, personalized service to all of our clients. Call us today at 479-267-1600 or fill out a contact form on our website.